Welcome to the support section. Here you will find at a glance instructions, applications, help topics, personal contacts and more. We strive to provide users of our services with all the documentation and tools they need to help themselves in case of problems. This way we can reduce waiting times for support requests.

Dear visitor, please note that due to our web relaunch, most sites and services are only accessible in German yet. Translations will follow soon. In the meantime, we provide the following content in English.
Support requests: A guide
There are many reasons that can lead to questions in dealing with our services. Often users can solve the problem on their own. Before you write a support request, please take a look at the following checklist:
If the answer to your question cannot be found:
For general support requests, employees and students will find help at the helpdesk.
For special support requests or technical problems concerning the TIK services, you will find your contact person on our services pages.
Employees whose work equipment and software are provided by the Central Administrative Services (ZVD) can contact the IT Workplace Support if they have any questions. You can recognise ZVD equipment by the yellow or white stickers with the code pcXXXX or pcXXXXnb.
The following overview page will help you with questions about user accounts, passwords and e-mails.
In order to process your requests and avoid unnecessary further inquiries, please describe your problem as precisely as possible. Depending on the service, answering the following questions may help us to solve your problem:
Who is making the request?

Employees, students, external parties, ...

Where is the problem located?

Device type
Operating system
Software, versioning
Link to the application
Place, room number

What are the symptoms of the problem?

Time of occurrence
Exact description
Screenshots

Possibility for further inquiries


E-mail address
Phone number

Download for:
TIK – remote support
What must I do?
Download the AnyDesk client for your operating system.
Save the program in a directory of your choice.
Open the file by double-clicking it.
The program opens and shows you your AnyDesk address.
Please inform your support about the address.

Click on the button "Accept" so that the support can connect to your computer.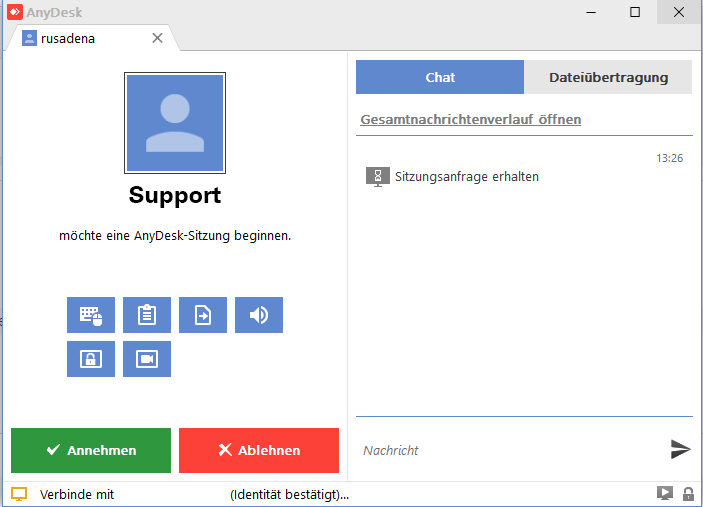 Security with AnyDesk:
You decide at any time when a session should be terminated. Just click on the "End" button in the AnyDesk window.
Your computer cannot be accessed again without your further consent.
Please close the AnyDesk window at the end of the session.
The TIK uses the AnyDesk software for telephone support cases. This allows our support team to look directly at your screen. The AnyDesk client provided by us can be executed directly after the download and does not need to be installed separately. This way you can show us your request on the screen and in return we can explain the solution steps directly.